Australian VA Lead Network
Virtual assistant jobs Melbourne. Connect with Australian businesses.
Virtual assistants in Melbourne – if you've been looking for the right amount of support, qualified leads and training opportunities in the VA space, the Virtual Assistant Lead Network is the perfect partner to further your VA or OBM career.
The VA Lead Network was built from the ground up by a community of virtual assistants and online business managers to help connect you to Australian businesses that really understand the value a qualified, experienced and savvy VA such as yourself can bring to their company.
We use an intense screening process to scrutinise VA job opportunities in Melbourne when they approach the VA Lead Network looking for your particular experience, skills, and know-how, allowing you to create long-term relationships with genuine businesses. You can filter through virtual assistant roles in Melbourne to suit your payscale and lifestyle — and all of the leads you see will be offering market-competitive pay; the kind that hard-working VAs in Australia deserve!
With our competitively-priced Career Member subscription, you also gain access to our bounty of VA and OBM training resources, including checklists, templates, automation hacks, online training and webinars.
Plus, once you're engaged with a new client, it's completely over to you. We don't take percentages, commissions, or royalties from the project. Your client is 100% yours!

Looking for an online business manager or virtual assistant in Melbourne?
It's free to list your virtual role, and we don't charge a commission when you choose a VA or OBM – you'll engage them directly.
We have hundreds of Australian VAs and OBMs in our network, giving you easy access to a virtual workforce with a wide range of skills and experience.
Melbourne VAs – Get the upskilling and networking you need
If you're a Melbourne-based VA who's flying solo, we understand that taking the time out to upskill or train yourself on new software and keep your toes dipped in the VA scene is tricky – especially if you've chosen VA work for the flexibility it affords you and your family.
We've sorted through all the latest and greatest range of apps, tricks, hacks, and tools and collated the ones we believe are the best — that means they're VA-tested and VA-approved! From new communication tips and management systems to professional digital marketing and social media training, we'll equip you with the skills you need to take your VA expertise (and career) to the next level.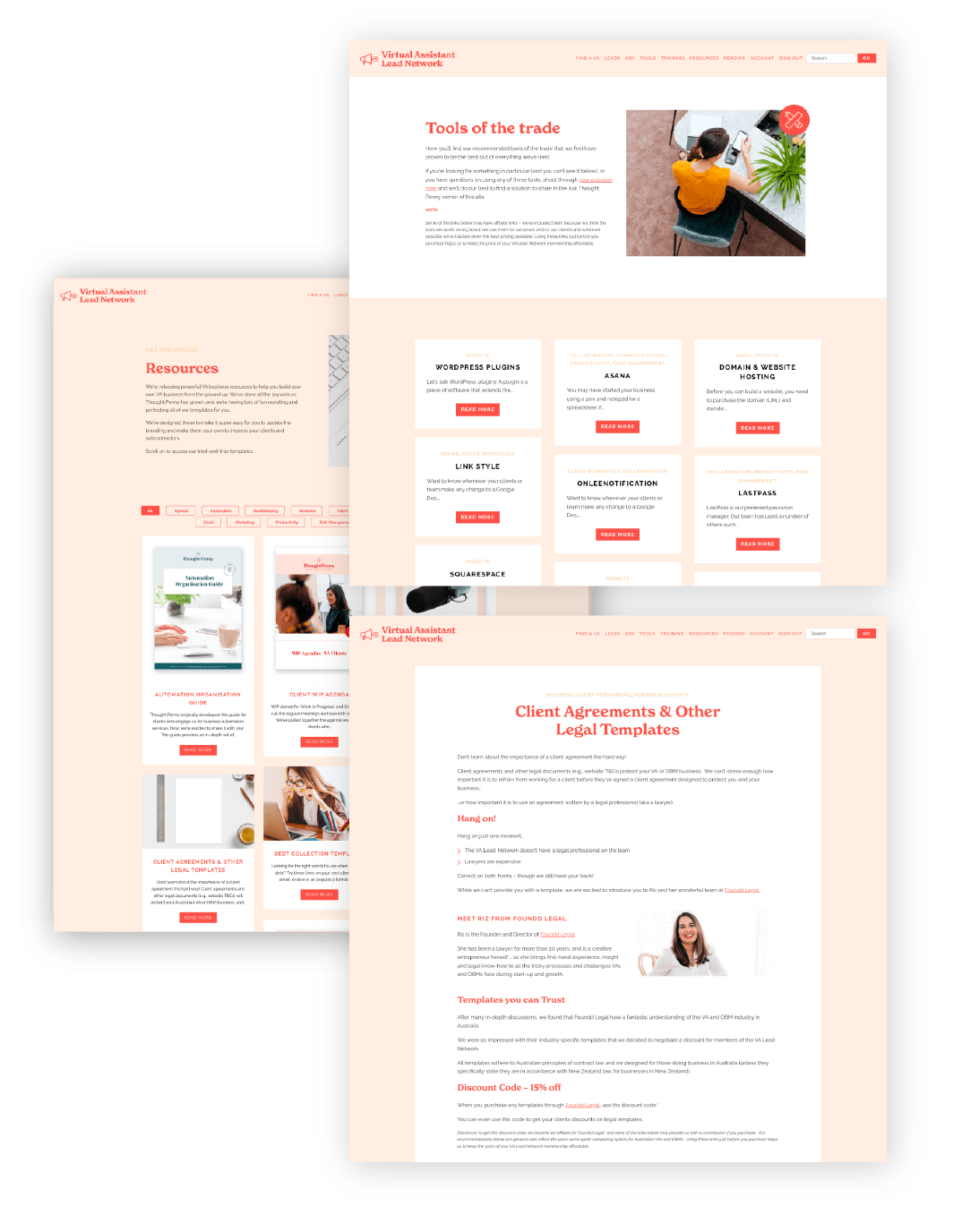 Professional tech support & virtual assistant services in Melbourne
The VA Lead Network isn't just about streamlining your business, we also offer resources and material to enhance your business mindset, give you the power to make sound professional decisions, and offer training and lessons in the skills you've always wanted to learn. That might be touching up your website's SEO; learning graphic design tricks from our friends at Canva; managing money, clients, customers and task loads or supercharging your LinkedIn game so you can reach your potential as one of Melbourne's superstar VAs or OBMs.
Of course, the VA Lead Network doesn't just give you value-adds for your own VA business but also for the businesses you serve. That might be implementing workflows and improving tech processes, building and maintaining a CRM, connecting different apps in Zapier to create custom automations, and so much more. Thanks to the VA Lead Network, you can earn an even bigger and better reputation as an awesome VA! Our monthly Tech Time masterminds will even support you over your tech hurdles.
If you want to take your Melbourne-based VA business to new heights, we'd love to have you on board the VA Lead Network. Join dozens of your fellow VAs and OBMs today!